Year 4 class page 2021 -22
"I am the Way, the Truth and the Life," (John 14:6)
Welcome to Year 4
On this page you will be able to see some of the interesting and exciting things we have been doing in class.
Our days to come to school in P.E. kit are Monday and Friday.
Swimming at Holt Park starts on Mondays from January.
Spelling test on Tuesdays.
Tables test Fridays.
See a copy of our current timetable below.
Do not hesitate to contact us with any questions or concerns.
Mrs. Boam , Mr. Stockdale and Mrs. Jones.
What a fantastic drumming workshop.Thanks Isaac!
Y10 from Cardinal Heenan invited Y4 to the high school to help design some recycling posters. Reduce, reuse, recycle everyone!
Lots of sporting skills on display at Sports day. We were so lucky with the weather too.
Year 4 had an exciting opportunity to learn some archery skills. In the sunshine.
Yorkshire Wildlife Park - 14th June 2022
We really enjoyed our trip to the Yorkshire Wildlife Park where we got to see lots of animals such as lions, baboons and even some dinosaurs. We had lots of fun on the playground and finished the day with an ice cream.
Our First Holy Communion celebrations in St. Urban's church.
.Celebrating First Holy Communion with a Communion breakfast and party.
The rain did not dampen our spirits for our jubilee street party!
We had a great day day taking part in our whole school assembly about the the last 70 years, in celebration of the queen's platinum jubilee. Which decade did we learn about? The 1960s of course!
We have developed skills in historical research, chronology and looking at evidence, through our work on the queen's platinum jubilee. We also enjoyed plenty of art and craft, as well as teamwork.
Year 4 have all pledged that they will work towards cultural cohesion.
Design Technology: Exploring different kite shapes.
What a great World Book Day. We spent the week giving each other clues about our wrapped up books and then did the great unwrap on Friday!
We enjoyed using resources from Jorvik museum to find out more about the Vikings.
Reading fairy-tales: We enjoyed having an audience for our own versions of fairy-tales today. Some excellent feedback given from Reception and Year 1!
History: We collaborated in groups to produce information posters about aspects of Viking life. We then presented our work to the rest of the class.
Science: Did you know that you can use fruit and vegetables to make a battery?
Just one of the interesting things we learned when Mr. Jamieson came into class and told us about his work for the National Grid.
Art and History: We had lots of fun using cereal boxes to make Viking longships.
Inspirational People Day
We had scientists, authors, sports people, musicians, naturalists, dancers suffragettes and astronauts in Year 4 today . They were taught by the queen, Dusty Springfield and one of the Brownlee brothers !
Lots of fun on Christmas jumper day. We are enjoying some Christmas activities for Enterprise week -busy hanging up our stockings and making cards.
P.E. Practising our skipping skills with Chris and Katie from Skipping School
Music: We are really enjoying our Melodian lessons.
Science: Some very interesting discussions about where ice-cubes might melt most quickly in class . They took a lot longer to melt than we thought they would.
Our daily prayers in class.
English: Composing and reading aloud our autumn poems.
We really enjoyed our fancy dress and disco day.
Year 4 class page 2020-21
"May the God of hope fill you with all joy and peace as you trust in him." (Romans 15:13)
Welcome to Year 4!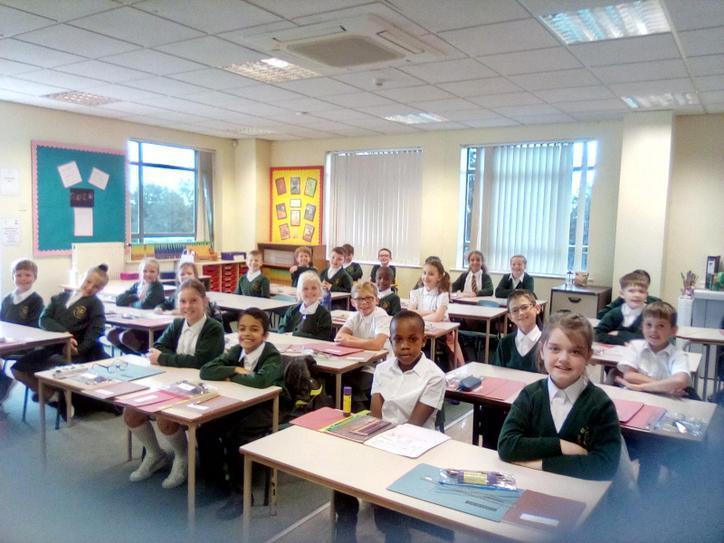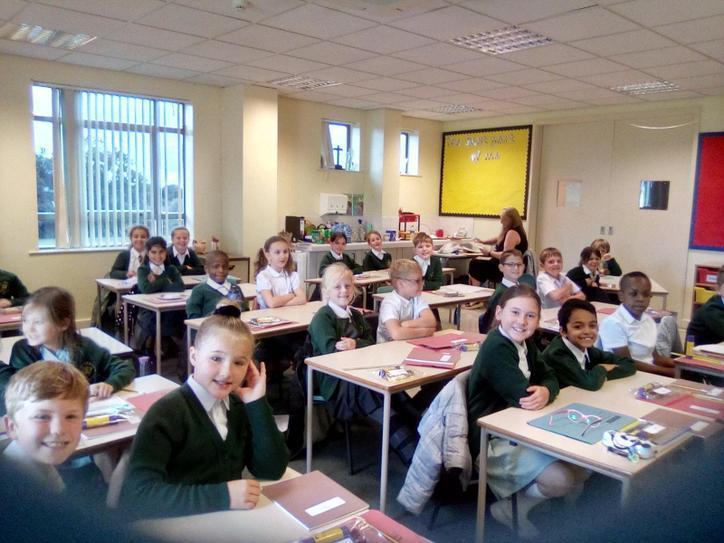 Our First Holy Communion celebration in school
After our photo shoot we performed a celebratory conga on the playground!
We had a fantastic time on our trip to the Yorkshire Wildlife Park. The sun shone, the polar bears pranced and the baboons bounced. Time on the play area and an ice cream helped make a fun day too.
We enjoyed our Christmas dinner and Christmas party in class!